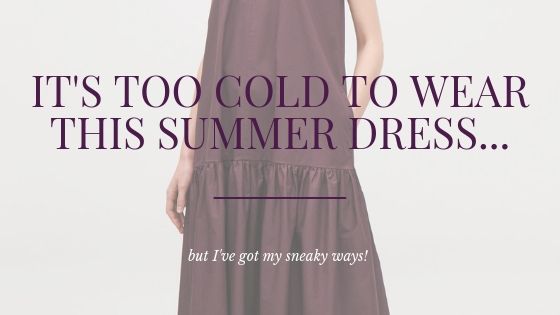 I'm not a quitter. Granted, I am a staunch believer in the art of letting go (hello, decluttering!) but only when something has outlived its sell-by-date. When something is brand spanking new and in need of a good wearing, I take an active interest in fulfulling its manifest destiny.
You can imagine my chagrin, when gifted this summer dress by my sister, to discover the weather had other plans for it – namely to sit pretty in my wardrobe. That was over a month ago. Since then, the one time I tried taking on Mother Nature, she plummeted the temperature to 9 degrees and added in some horizontal rain for kicks and giggles. Surprise!
No raffia slides, no bare arms, no glistening skin or basket bags filled with alms from the farmer's market; just a forlorn frock hanging in my closet waiting to be taken out. Well, that ain't happening, folks – not on my watch.
Where there's a will, there's a sneaky way and I've got plenty up my sleeves. It all starts with light colours and light layering. The beauty of keeping it lighter and brighter? You can at least pretend it's summer even if the brass monkeys insist otherwise.
Take my bedroom selfie above: the gilet and loafers lend the dress a sense of structure (handy for summer work wear) and climate-appropriate props. Still feeling the blue-ish tinge? Swap the tuxedo vest for a cream blazer. As for the crochet bag? The contents of one's mala doesn't really need extra lagging, so this is your opportunity to pretend it's Provence even if it's Portlaoise.
There. Done. Now I'm off to find where in the hell that mercury is hiding…
https://annmarieoconnor.me/wp-content/uploads/2019/06/Its-too-cold-to-wear-this-summer-dress.jpg
315
560
Annmarie
https://annmarieoconnor.me/wp-content/uploads/2017/11/Untitled-1.png
Annmarie
2019-06-15 20:59:44
2019-06-24 17:43:24
It's too cold to wear this summer dress but I've got my sneaky ways.